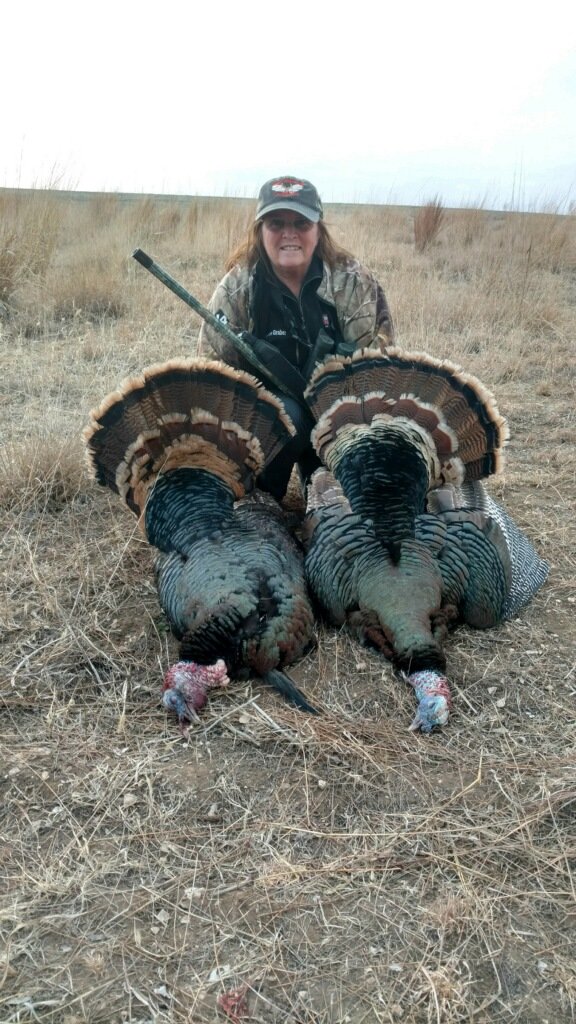 4/9/18
I killed both of these Tom's in Kansas on the same day using motion madness decoys Double down Feeder hen and strutter assembly .
Thanks mmd ! Bonnie G , Kansas
10/10/17 Do We have motion? You bet, don't even have to use a call hardly. Honks are pouring in, wing cupped and committed way out there. We have had small groups come in silent,and don't know they are feeding along side right on the x.

Will buy more depending if they hold up to our rough use.
thanks
Todd
7/10/17 HAPPY BIRTHDAY LANE ! THIS IS WHY I DO IT . HE AND DAD KILLED 2 TOM'S WITH THE DOUBLE DOWN FEEDER HEN THEY BORROWED FROM A FRIEND , LANE HAD TO HAVE HIS OWN . CANT WAIT TO ADD THAT BIG TOM PIC NEXT YEAR BUDDY , CONGRATULATIONS !
NEVADA , MO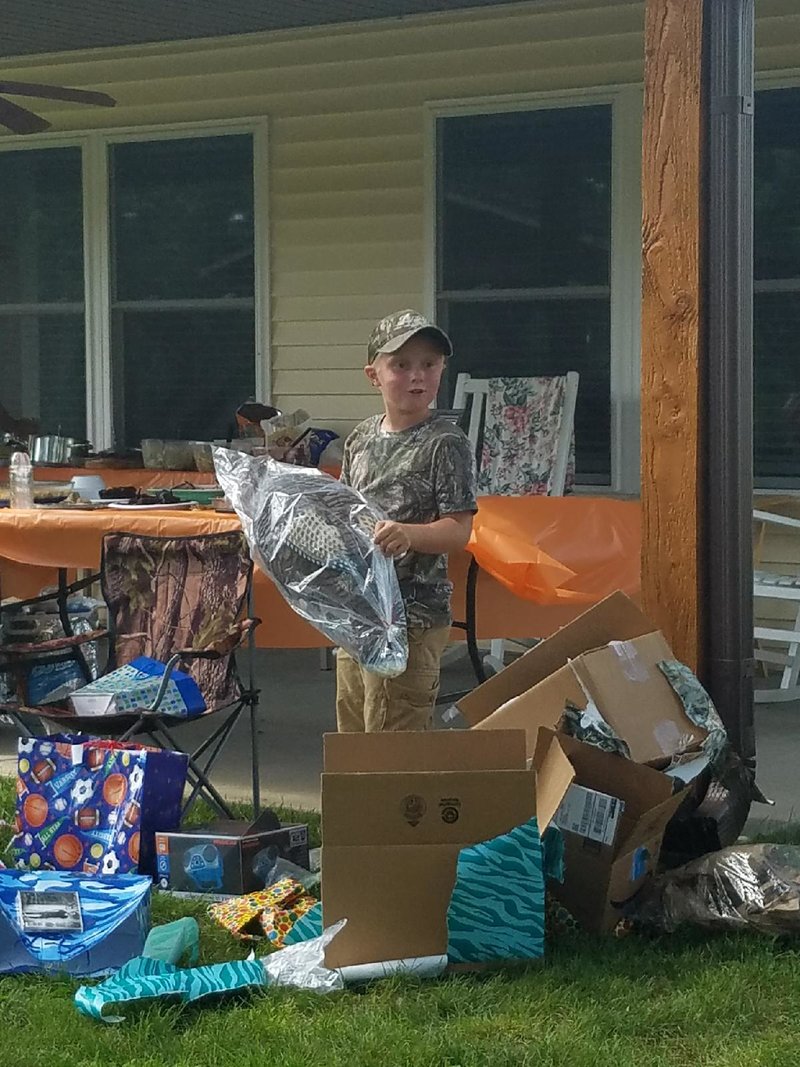 5/8/17 I've had the Motion Madness Decoy out three times now with success each time.
Today there were 3 live hens in the field, by watching their body language and using the remote was able to keep the hens relaxed and when 4 Jake's came into the field they actually came to the MMD! I've passed this success on to an outdoor writer in Oklahoma who is an avid turkey hunter using archery equipment.
Mike M.
2/24/17 RANDY , JUST WANTED TO LET YOU KNOW WE HAD A GREAT SEASON AND THE MOTION MADNESS DECOYS REALLY HELPED !
RICH , WEST VIRGINA
1/16/17 I HAD TO CALL MR RANDY TODAY AND LET HIM KNOW HOW EFFECTIVE THESE MOTION MADNESS DECOYS REALLY ARE . WE SET UP WITH 8 MOTION CANADA'S , 4 IN TWO SPREADS OF 20 STATIC WITH THE MOTION ON THE INNER EDGES OF THE HOLE AND WOW ! WE KILLED 90 BIRDS IN 2 DAYS .
THANK YOU MOTION MADNESS ,
DALE S , VANCOUVER BRITISH COLUMBIA.
1/5/17 THE MOTION MADNESS DECOYS ARE PROVING THIER WORTH ! WE HAD OUR WOUNDED WARRIOR HUNT YESTERDAY . SHOT 25 GEESE AND 75 PERCENT CAME STRIAGHT IN WITHOUT CALLING . THE DISABLED VETS HAD A GREAT TIME .
RICHARD R , VIRGINIA
4/18/2016 " FOLLOW UP , I WILL TELL YOU WITHOUT A DOUBT , THESE ASSEMBLIES ARE ABOSOLULTY THE BEST INVESTMENT I HAVE EVER MADE IN ALL MY TURKEY HUNTING YEARS ! THEY JUST CAN'T RESIST THE NATURAL MOTION THESE PROVIDE . THRU MY CLIENTS , FRIENDS , FAMILY AND MYSELF WE ARE 19 AND 0 ON KILLS WHEN THEY SEE THE NATURAL MOTION . THAT IS THE HONEST TRUTH !! BELEIVE IT OR NOT ! "
Mark H Orlando Fla.
3/3/2016 " While attending the NWTF convention in Nashville I stumbled upon the Motion Madness booth . After talking with Randy I purchased the Peck and sweep feeder hen and Strut your stuff Gobbler assemblies combo . Brought them home to Florida and starting playing with some decoys. The installation was very simple and clean . The assemblies are top quality , professionally built , rugged and durable . A couple of my buddies came over to see them and tried to buy mine . I'm convinced they are the best built most effective motion products and will certainly help me get the job done ."
Mark H. Orlando Fla
3/1/2016 WANTED TO SHOUT OUT A BIG THANK YOU TO ALL THE NICE FOLKS WHO STOPPED BY OUR BOOTH AT THE EXPO IN INDIANAPOLIS . WE HAD A GREAT TIME AND ENJOYED MEETING ALL OF YOU . LOOKING FORWARD TO HEARING ABOUT YOUR ADVENTURES IN THE FIELD WITH OUR PRODUCTS !
2/15/2016 , HAD A GREAT TIME AT THE NWTF CONVENTION IN NASHVILLE THIS YEAR . A BIG THANKS TO EVERYONE WHO STOPPED BY TO SEE US AND ALL THE SUPPORTIVE COMMENTS ! LOOKING FORWARD TO HELPING EVERYONE BE MORE SUCCESSFUL IN THE FIELD AND SEEING YOU AGAIN NEXT YEAR AT THE SHOW.
1/31/2016 " All we can say is WOW !! We purchased 16 Canada peck and sweep feeders in content and stretch neck head styles , used them about a dozen times this year and what a difference . Had honkers practically land on top of them . Cant see us ever hunting without them from now on ! Thanks Motion Madness ! "
Steve and Johnathan , Shawnee , Kc
I2/22/15 " I purchased the 8 pack combo in mallard and pintail feeders and lookers in early October from Motion Madness. My son and I hunted near crosby mid month and although there was no major migration underway we had plenty of birds to choose from. We experienced easy set up with the motion decoys and they integrated very well into the rest of the spread .The ducks were less wary and committed on first pass. Where we really noticed a difference was on the windless days , The spread now had life and the ducks came to us like we had a magnet ! We also noticed the ducks that landed went right to feeding and were not concerned about the other field decoys not moving.
I will be adding more Motion Madness Decoys to my spread and fewer static ."
Mark from Wisconsin.
11/12/15 " I've been hunting waterfowl for over 40 years , tried every gadget out there and I will say I have never seen anything like the results I get with Motion Madness Decoys " " If you want realistic natural motion that finishes birds , Motion Madness has it ! " Dave Marietta , Clinton , IN TWIN OAKS 812-243-1511
11/4/15 NEW SHIPPING RATES FROM UPS ! GUESS THEY GOT ENOUGH MONEY SO WERE PASSING IT ON TO YOU !
4/1/15 A BIG THANKS TO ALL THE PARTICIPANTS IN OUR 2015 NWTF FREE GIVEAWAY DRAWING AND CONGRATULATIONS TO OUR 5 LUCKY WINNERS :
JOHNATHAN C From KENTUCKY !
DAVE S From INDIANA !
JULIE P From TENNESSEE !
AUSTIN F From ILLINOIS !
MARK J From KANSAS !

YOUR NEW MALLARD DRAKE FLOCKED HEAD PECK AND SWEEP FEEDER IS ON THE WAY .
HOPING IT BRINGS YOU GREAT SUCCESS IN THE FIELD FOR YEARS TO COME.
TEAM, MMD